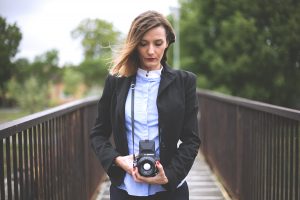 Lorena Dumitrașcu
                                                      Fotograf si fondator Light Stories
Telefon   (+40) 0757 074054
About 
A photographer looking for natural light. 
I find my inspiration in people, with their stories and masks and fears.
In books, movies, mysticism, Hans Zimmer's music.
In my weird and funny dreams. 
Me… cameras, dance, books, snowboard, laughing until I cry with my friends, singing when I drive… Well, enjoying life. I was a travel agent for seven years, but then my obsession for photography made me feel that this is not just a hobby or a period of my life, it is my life and I want to do this forever. It's like finding the person of your dreams and you know what's going to happen next. So, now I do this full time. Most of my photographs are shot on film because I'm deeply and irrevocably in love with the medium.
Despre Light Stories
Ridică privirea si zâmbește, sau fi melancolic, timid, revoltat, sau fericit, dar fii așa cum ești iar eu promit sa fiu acolo și să văd toate astea cu cei mai buni ochi.
Light Stories

a pornit dintr-o credință simplă si sănatoasă cu o țintă ambițioasă de reprezentare a realității. Incurajeaza autenticitatea si curajul de a fi noi insine.
Fotografiile sunt făcute in format digital si film analog 35 mm si 120 mm.
 

Light Stories
ofera experiente si povesti in imagini

pentru:
•

Fotografia de Portret și pentru Casting
•

Fotografia de Nuntă/ Cununie Civilă/ Love the Dress/ Botez
•

Fotografia de festival și teatru
Și pentru că totul în ziua de azi merge pe bază de recomandari, daca v-am oferit o experienta frumoasa  sper să mă recomandați mai departe.
Rezervă-ți evenimentul cu un mesaj și câteva detalii, întreabă despre prețuri și condiții aici [email protected] sau vorbește direct cu vocea prietenoasă de la celălalt capăt al firului aici

(+40) 0757 074054
Remember to

Stay in the light!